Working with Us
We are Mind, the mental health charity. We won't stop until everyone with a mental health problem gets the support and respect they deserve. Will you join us?
We have offices in London and Cardiff, and some of our staff work from home too.
Why choose Mind?
We know how important the benefits of a mentally healthy workplace are. Staff wellbeing is really a high priority for us. We're dedicated, friendly and open, working together to improve the lives of people experiencing mental health problems.
Benefits of working for us
Flexible working hours.
Generous parental leave pay
25 days annual leave and 5 Mind days (a paid day of leave after 5 of each of the year's bank holidays).
A competitive pension.
Cycle to Work scheme
An interest free season ticket loan.
Building a diverse workforce
We want our workforce to truly reflect the diverse backgrounds and experiences of the people we exist to support.
As part of our new strategy, we want to become a truly anti-racist organisation. We recognise that Mind needs to change – in terms of who we are as an organisation, how we support the mental health of people from racialised communities and how we acknowledge and challenge racism more widely. We will invest in building an inclusive organisational culture with diverse leaders. Find out more about our antiracism work.
We also have some amazing staff networks who champion diversity and encourage vital conversations.
LGBTIQ+ Staff Network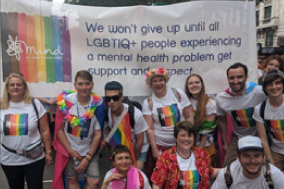 Our LGBTIQ+ Staff Network promotes a positive work environment for all lesbian, bi, gay, trans, queer and intersex staff and volunteers, aiming to ensure they feel connected and valued.
We have organised events for staff around LGBT History Month, attended Pride in London and Pride Cymru along with staff from local Minds and our Mind Shops, and contributed to the Stonewall Workplace Equality Index.